Jimmy Choo Woman Cutout Leather Ankle Boots Light Brown Size 365 Jimmy Choo London f656nxb
SKU31963273176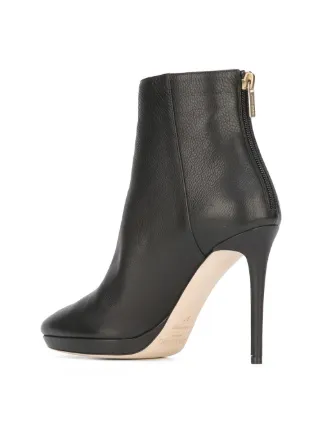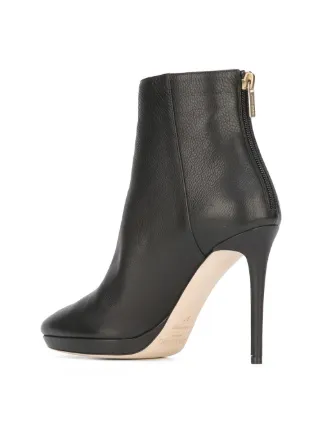 Sub-analysis by the variables grouped within common sets of disease, medication, or demographics identified the variables entered into the final model. The age- and sex-adjusted final multivariate model is shown in Table 2 . The presence of a prior hypoglycemic day during the admission was the dominant predictor of a hypoglycemic event, with nutritional interruption/discordance and insulin use as an outpatient also emerging as pertinent factors. Race, BMI, the disease states, and other factors did not add significant predictive ability to these factors.
Table 2.
Final Multivariate Logistic Analysis Pseudo = 66%, < 0.0001
Tables Maxi H283 Sneakers IT385 / Black Hogan 2wfZg
and 4 summarize hypoglycemia therapy and regimen adjustment for the 65 patients who had either a POC or chemistry glucose value ≤ 60 mg/dl. Of those 65 patients, 11 (17%) had severe hypoglycemia, classified as a blood glucose ≤ 40 mg/dl. Only 2 of the 65 patients suffered any documented harm. One patient had lethargy and another was tremulous for a brief time beyond glucose value correction, prompting a brief transfer to an intermediate level of care for observation.
Table 3.
Treatment of Hypoglycemic Cases
Table 4.
Regimen Adjustments in Response to Cases With Hypoglycemia and No Putative Transient Nutritional Interruption/Discordance Etiology
The UCSD MC hypoglycemia treatment protocol states that blood glucose has to be checked every 15 minutes after a hypoglycemic event until two consecutive values ≥ 80 mg/dl have been attained. The median time until the next glucose value was checked was 60 minutes, with a range of 8–600 minutes. The median time until documented resolution (with a glucose value of ≥ 80 mg/dl) was 180 minutes with a range of 10–1,260 minutes. Nineteen of the 65 cases (29.2%) of hypoglycemic events were not documented anywhere in the chart or progress notes except for the recording of the low value itself.
As noted above, 32 of the 65 hypoglycemic cases had some form of nutritional interruption or antihyperglycemic/nutritional discordance, leaving 33 who had no such temporary reason for their hypoglycemic event. Of these 33 hypoglycemic cases without temporary nutritional interruption/discordance as a contributing factor, 17 had a reduction in their scheduled insulin dose, 2 had an oral agent discontinued, 4 had their carbohydrate consumption increased, and 10 (30%) had no adjustment made.
DISCUSSION
We sought to evaluate risk factors for iatrogenic hypoglycemia, compare the frequency of these risk factors in a matched control group, and examine the response to iatrogenic hypoglycemic events. Our study has several findings of interest with practical implications for multidisciplinary improvement teams.
. There was a very long delay in documented blood glucose monitoring after an event, which clearly deviates from protocol. In 7 of the 65 hypoglycemic cases, the nurse reported that they did not receive proper notification of the hypoglycemic chemistry lab value, leading to long delays in the treatment and subsequent retesting.
Documentation of the hypoglycemic event varied from a detailed description of what the patient's current condition was leading up to the event and exactly how much carbohydrate was given as treatment to merely mentioning a patient's hypoglycemic glucose value. Documentation of the event and treatment was also difficult to retrieve because of inconsistencies in where the documentation was placed (nurses' progress notes vs. with POC glucose tests vs. in the medication administration record). Physician performance was also suboptimal, in that appropriate adjustments to avert repeated episodes of iatrogenic hypoglycemia often did not occur. This poor performance confirms the experience from other studies.
. Simplification of hypoglycemia protocols, with a focus on treatment of the event, assessment of the etiology, notification of the treating clinician, and documentation in a standardized format should be stressed. Improvement efforts must include ongoing assessment of adherence to the hypoglycemia protocol.
. Our univariate analysis confirmed several risk factors for iatrogenic hypoglycemia (low BMI, congestive heart failure, chronic kidney disease, and β-blockade). The failure to confirm other reported risk factors (advanced age, type 1 diabetes, liver disease) is likely the result of a limited sample size and multiple comparisons, and improvement teams should still consider these conditions as signals to use lower initial doses of insulin.
More importantly, nutritional interruption/discordance and a prior hypoglycemic event were strong predictors of subsequent hypoglycemia in both univariate and adjusted multivariate analyses. There were three categories making up the composite nutritional interruption/discordance parameter: new NPO order status, new documented nausea/emesis or anorexia, and other causes, such as the administration of nutritional insulin out of sync with nutrition or giving an incorrect or extra dose of insulin. The NPO order status was not a risk factor for hypoglycemia in our institution, which incorporates basal/nutritional/correction dose insulin terminology into orders and the medication administration record and standing orders in the care of NPO patients. However, the other two categories of nutritional interruption/discordance were a risk factor at our institution.
. Our findings suggest that interruption of nutrition is exceedingly common in inpatients and that staff often do not take action that could avert hypoglycemia in these situations. Although we have made attempts for years to improve the synchronization of nutrition, monitoring, and insulin delivery, many opportunities for improvement remain. Educational efforts should focus on these triggers for added attention and adjustment.
. An impressive 51% of hypoglycemia cases had suffered a prior hypoglycemia event earlier in their hospitalization. Unfortunately, the opportunities to avert repeated episodes are often not realized, and suboptimal or no changes were made in many patients with hypoglycemia (even those without possible temporary mitigating circumstances). This finding has also been seen by others.
. As a result of this study, we are planning an interventional strategy for patients approaching or developing hypoglycemia. A daily report of all patients with glucose values in the danger zone (for example, any glucose < 80 mg/dl) will be forwarded to a nurse/hospitalist consultant team. This team will assess the glucose values and treatment regimen and intervene with focused interventions, such as templated consultation notes and phone calls, with recommendations for changes in either the antihyperglycemia regimen or nutrition plan. Although confirmatory research is needed, we believe this proactive approach looking at concurrent daily glucose values is much more likely to be successful in securing improvement than retrospective review of hypoglycemia cases.
. Surgical, medical, pharmacy, laboratory, dietary, nutritional, and nursing personnel were all involved in the care of these patients, and opportunities for improvement were noted in all of them.
. We have already started educating our hospital staff, including nurses, physicians, pharmacists, dietary services staff, and laboratory staff, about the insulin management and hypoglycemia treatment protocols. Nursing in-service training sessions and skills workshops on proper documentation have been given and will continue throughout the medical center, and educational sessions are taking place for a variety of services. All disciplines will be involved as we measure the impact of revising and simplifying our current hypoglycemia protocol and other educational efforts.
Our study had several limitations. Sample size calculations, while sufficient to look at key variables, may not be sufficient to support a robust analysis of multiple factors. As mentioned previously, documentation of hypoglycemia treatment was often poor, so possible causes of the hypoglycemic event, as well as the exact treatment and changes made to regimens, were subject to the data collectors' search and interpretation. Also, we waited only 48 hours after an index event to collect information on treatments given or adjustments to regimens, which means we may have missed any changes made after 48 hours.
Our study also included patients who did not have a diagnosis of diabetes. There was a trend for having more cases with a diabetes diagnosis than controls. Although this trend did not reach statistical significance, controls were not on scheduled insulin as frequently in the outpatient or inpatient setting, potentially influencing other comparisons.
Still, we think our findings and implications will hold up despite these relative shortcomings because our study also demonstrates several strengths, including rigorous data collection techniques, the presence of a matched control group, and a logistic regression analysis that adjusts for the effect of multiple cofactors.
Finding:
Sunday, January 14, 2018 -

11:00am

to

5:00pm
Jowler Creek Vineyard Winery
Winter is here and it's time for Jowler Creek Vineyard Winery's 11th Annual Tank Tasting Party on Sunday, January 14. At this exclusive event, you'll be able to sample the winery's2017 Traminette, Vignoles, Chambourcin and Norton straight from the tank. Speak directly with the winemaker and share your thoughts on how they taste! Costis$12/person. Priceincludes a taste of 3 wines from the winery'scurrent wine release listand a glass to take home. No reservations are required.
Saturday, January 20, 2018 -

1:00pm

to

2:30pm
Jowler Creek Vineyard Winery
Experience the joy of food and wine tasting as Jowler Creek Vineyard Winery staff guide your palate through the 5 S's of wine tasting and give tips on pairing foodwith wine. Enjoy a small plate of locally-sourced foods chosen to pair perfectly with the wines! Cost is $19/person.
Saturday, January 20, 2018 -

3:30pm

to

5:00pm
Jowler Creek Vineyard Winery
Go behind the scenesand see how Jowler Creek Vineyard Wineryturns theirsustainably-grown grapes into wine. You'll taste through the winery's lineup of wines while winemaker/owner Jason Gerke leads you on a tour of the production room and vineyard! Cost: $15/person.
Sunday, January 21, 2018 -

11:00am

to

5:00pm
Jowler Creek Vineyard Winery
Friday, January 26, 2018 -

7:00pm

to

9:00pm
Jowler Creek Vineyard Winery
Looking for a fun activity for date night, girls night out, or just a fun night with friends? Sip on wine and paint a festive painting! Cost is $39/person and includes all the supplies you need for the painting, a fun step-by-step lesson by local art instructor Angie Carmack, some yummy snacksand a beverage (alcoholic or non-alcoholic) of your choice!
Friday, January 26, 2018 - 7:00pm
Willow Spring Mercantile
Enjoy a four course wine dinner with Fence Stile Winery at Willow Spring Mercantile in Excelsior Springs on Friday, January 26. This culinary and wine event showcases local wines and food perfectly paired in a unique wine cellar bistro setting.Meet Shriti, the winemaker from Fence Stile Winery and learn the family's story. Enjoy exceptional wine and food. Reservations required. Cost is $65 per person and includes wine, food, tax and gratuity. For more menu details, visit DESIGN creeper chelsea boots In leopard print suede Multi Asos mldm81Vk
or call 816-630-7467.
© 2017 Macmillan Publishers Limited, Part of Springer Nature. All Rights Reserved.